FOR IMMEDIATE RELEASE
Leesburg Attorney Barbara S. Williams
Announces The Newly Named WilliamsFord, P.C.
And Was Recently
Honored As Immediate Past President Of
Virginia Trial Lawyers Association (VTLA) on May 8th
Leesburg, VA- May 9, 2014- Barbara S. Williams proudly announces her partnership with Cory R. Ford and that her personal injury law firm, Barbara S. Williams P.C., has been renamed to WilliamsFord.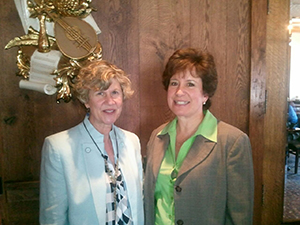 Barbara and Cory have more than 35 years of combined experience representing clients injured in car crashes, tractor-trailer wrecks, or wrongfully killed as a result of negligence. "Cory has been with the firm for almost 8 years and he has a real compassion for our clients' grief and loss. At the same time, he's a strong advocate and extremely smart, the perfect combination for a personal injury lawyer. I'm proud to call him my partner," said Barbara Williams.

Barbara is widely recognized for her contributions to the legal community and recently assumed the office of Immediate Past President of the Virginia Trial Lawyers Association (VTLA). On May 8, 2014 she was honored by the Loudoun Chapter of the Virginia Women Attorneys Association (VWAA) at Palio's restaurant in Leesburg. During the luncheon, she was recognized for the accomplishments she spearheaded while serving as VTLA President, including the formation of a Women's Caucus and the Virginia College of Trial Advocacy. She is a Past President of the statewide VWAA, helping that organization grow from 5 to 9 chapters. She is a founding member of both the Loudoun and Winchester chapters of the VWAA. The Loudoun Chapter of the VWAA has more than 50 members.
"Our VWAA Loudoun Chapter congratulates Barbara on a monumental term as President of the VTLA…she has served and led by example and fostered women in the law by promoting professionalism among Virginia Lawyers.
Her leadership positions and the strong relationships that she's developed are an example for us all to follow.
We are proud of our colleague, mentor and friend!"
– Carol Capalis, VWAA President, Loudoun Chapter
Carol Capalis, current VWAA Loudoun Chapter President is pictured with Barbara at the VWAA Luncheon.
About Barbara S. Williams: Barbara S. Williams has exclusively practiced per¬sonal injury law for 26 years and serves clients from her Leesburg & Winchester offices. She has been selected to the 2014 Virginia Super Lawyers and was honored as one of the "Influ¬ential Women of Virginia" nominated by her peers; she also served as a board member of Brain Injury Services and is an advocate for people with brain inju¬ries. WilliamsFord, P.C. represents personal injury clients throughout Loudoun County, Frederick County, Fairfax and the Northern Virginia area.
Phone interviews welcomed, simply contact barbara@williamsfordlaw.com or call 703-777-6535.
Video: https://www.facebook.com/photo.php?v=10203594099714622