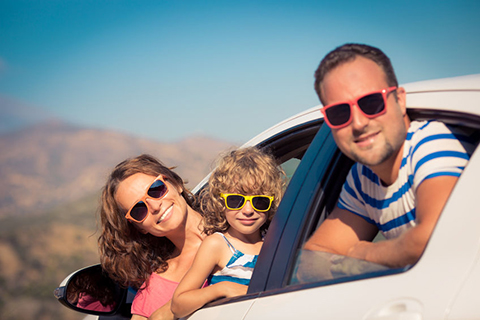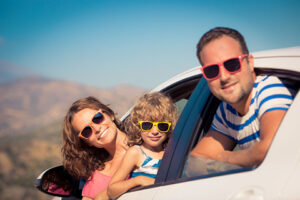 Summer is here and pandemic restrictions have been lifted, so many of us are excited to hit the road for vacations. Be sure you and your family are safe!
With more traffic than ever, the chances of you getting caught in a traffic jam, having a mechanical breakdown, or being involved in a car accident are on the rise.
Below are 3 tips to prevent injuries during your summer road trip:
Check Your Car
Safety recall information is available for all cars on the NHSTA's website, and if your car has a recall, you can get it fixed for free.  Simply enter your VIN on the website and any applicable safety recall information will be listed for your car.  Also, make sure you get your car serviced before you leave for vacation — have the oil changed, check your lights, battery and all the fluids (especially the coolant), and examine the wiper blades and tire pressure.  Be sure to also pack an emergency roadside kit.  An ounce of prevention is worth a pound of cure.
Heat Stoke: Keeping Kids Safe
It's painful to say, but did you know 52 kids died in 2019 of heatstroke in cars? This statistic is the largest number in more than 20 years, and what is so sad is that each death was preventable.  What we need to remember is that cars heat up very quickly—even if it's only 70 degrees outside—and that children's body temperatures rise 3 to 5 times faster than that of an adult.  We should never leave a kid in a car—even for a few minutes to slip into a convenience store.  A core body temperature of 104 degrees is when heatstroke begins.  Don't take a chance.
Pay Attention To Your Driving
Distracted drivers put their families at risk.  Don't use your cellphone, look at a GPS or discipline your kids while driving.  Take the time to map out your route before you leave.  Using your cell phone to talk, text or email is against the law in Virginia as of January 1, 2021.  And allow several seconds of gap time between you and the vehicle in front of you so you have time to both react and stop if something happens in front of you to avoid a car accident.  Remember there were a little over 9,000 fatal crashes during the months of June to August in 2018.  If you pay attention to the road and all that is happening around you while driving, you may prevent the death of a member of your family or of another person.
So before packing the beach chairs and suitcases in your car, think about what you can do to prevent any problems BEFORE you hit the road for a fun filled vacation.  And if you do get injured—which we hope you do not—please contact us at WilliamsFord with any questions or concerns or call us at 703-777-6535.