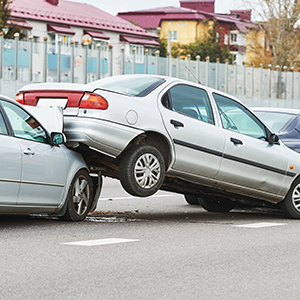 You may think that car accident lawyers would be happy that there were more car crashes reported in America. But you would be wrong.  Last year, we were shocked at the uptick of road deaths during the pandemic.  But new statistics from federal transportation officials reveal that the death rate jumped 10% compared with the year before.  Sadly, 42,915 people died in car crashes in 2021.  We don't want that for you or your family.  It's why we are in business—to hopefully make people realize that they can and should drive safely to avoid hurting others or they will have to explain their driving in a court of law.
The 10% increase in road fatalities makes history because it is the largest annual percentage increase since the National Highway Traffic Safety Administration started tracking fatalities in 1975.  Think about that. The largest one-year increase in 47 years.
Although gas prices are high, miles driven by Americans is increasing.  With an increase of cars on the road, all types of fatalities are up.  Here are the stats:
Fatal multi-vehicle pile ups on urban roads up by 16%
Fatalities among senior citizens up by 14%
Deaths involving at least one large truck up 13%
Pedestrian deaths increased by 13%
Alcohol and speed related deaths up by 5%
These statistics (found at https://crashstats.nhtsa.dot.gov/Api/Public/ViewPublication/813298) document an increasing dangerous driving public which concerns highway safety advocates, including all of us at WilliamsFord. We are in trouble; we are all at risk.  And as personal injury lawyers, we see up close the grief and loss of these deaths on the survivors.   It is devastating.
Europeans do not have the same risks.  Although there are over 100 million more people in the European Union than in the US, only 19,800 fatalities were reported there—half of the deaths experienced during the same time frame in the U.S.  As Pete Buttigieg, our National Transportation Secretary says, "We have a national crisis of fatalities and serious injuries on our roadways."
At WilliamsFord, we represent clients that are seriously injured and represent families in wrongful death cases.  When we try cases against negligent drivers, we focus on what a reasonable driver would do under the same or similar circumstance as the at-fault driver.  Think about your driving and those you see on the road. If you are exceeding the speed limit, are you aware of your speed? Do others pass you going even faster? How many lay people realize that it takes 344 feet to stop a car traveling at 65 miles per hour? That is longer than a football field!  Do drivers realize this fact when they are traveling down the highway?
The Virginia Code has a table of stopping distances that you can reference if you are interested in how your speed can delay your ability to stop when something happens in front of you on the highway.  You can study this table and see how your speed and your reaction time affects how far you go before you can stop in a car:  https://law.lis.virginia.gov/vacode/46.2-880/  This table is admissible in a court of law.  The table also has stopping distances for trucks, which is even longer, of course.  But I see trucks on I81 seemingly oblivious to the fact that they need even more space to stop should trouble be ahead of them on the highway.
Remember the general rule for stopping distances for cars:  stay at least 3 seconds behind the vehicle ahead of you.  This 3 second rule will help you stay safe.
The National Highway Traffic Safety Administration is implementing programs aimed to slow drivers and better account for the inevitable human mistakes made while driving.  These efforts are part of a broader federal safety strategy.
But will those programs help? Can Americans drive slower, be more careful, anticipate problems before they occur?  Do you think we can drive without our cell phones? Speed is a huge factor, as is wearing seat belts.  Will the 3 second rule be used by drivers?  What can we do, as a society and as individuals, to ensure safety on our highways? Some suggestions are simple:
Pay attention
Don't exceed the speed limit
Remember the 3 second rule
Don't drive distracted (put your cell phone in the trunk)
But can we do it? Let's try.  At WilliamsFord, we don't want you or any of your loved ones to become our client.